HOW TO FIND US
Broken River is only 90 minutes drive and 100 kms west of Christchurch. We're located in the Craigieburn Range, right in the heart of the Southern Alps of New Zealand. Check out the details below on how to get here under your own steam, by carpool or with a specialised commercial ski transport operator.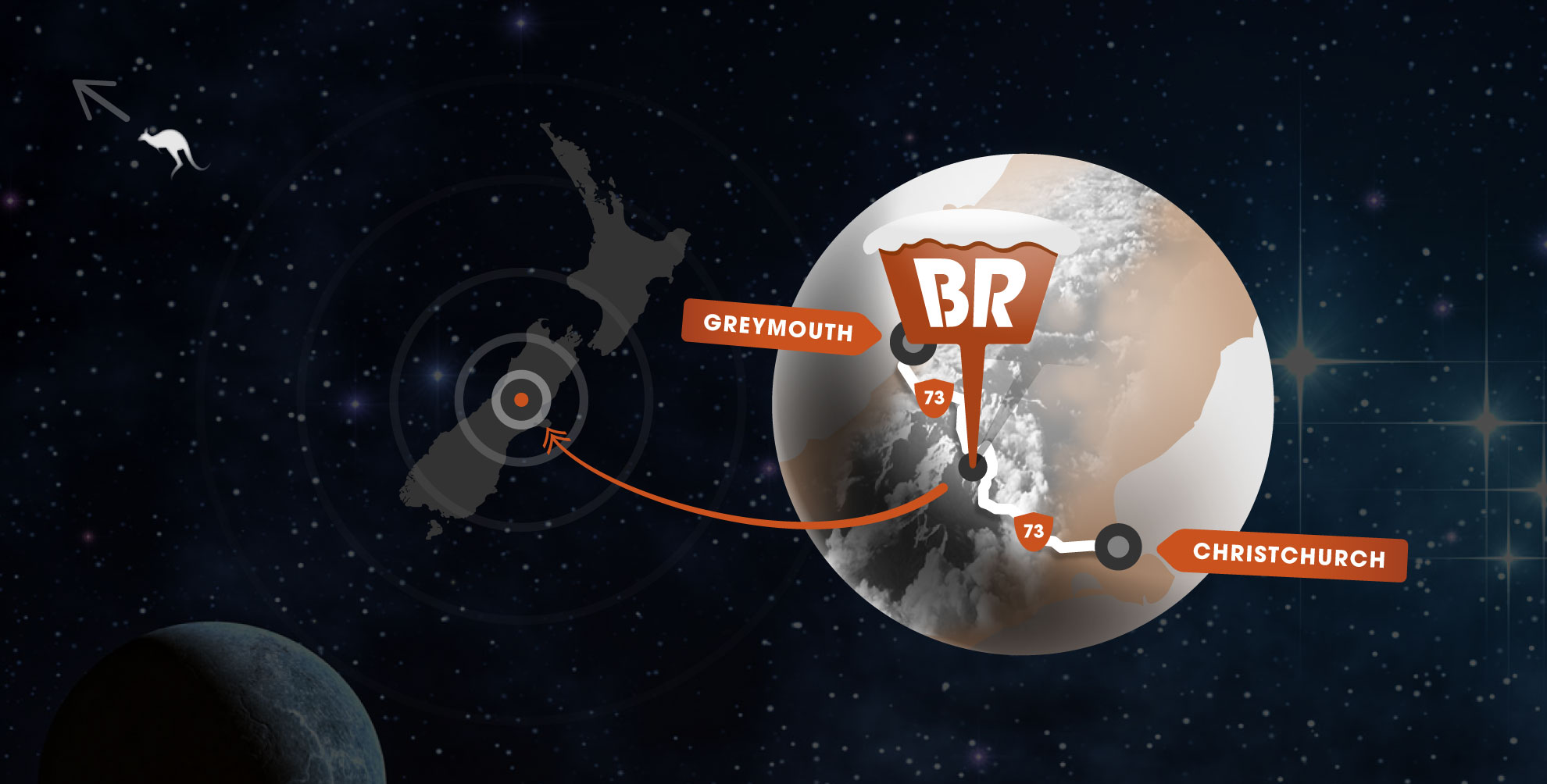 BY CAR
Broken River is easily accessible by car but please carry chains for your vehicle - even if you have a four wheel drive. Getting stuck on a snowy road while others are tracking out the powder is just unthinkable - especially for those behind you! Our road is not suitable for campervans - please park down at the entrance near State Highway 73. Please check our daily snow report for road conditions and make sure you carry chains.
Directions. From Christchurch, drive west on State Highway 73 over Porters Pass and beyond Castle Hill Village. Our sign-posted access road (Broken River Road) is 7.5 km beyond Castle Hill Village. The 6 km unsealed, sheltered access road gently climbs through native beech forest to the main car park (Hanomag car park). Two-wheel drive cars can easily reach the car park with chains fitted. From here, the Tyndall Tram will transport you via a spectacular 4-minute ride to the ticket office. The Tram runs 8:30-11:30am and 3:30-5:30pm daily in winter.
CARPOOL
Save fuel - share petrol costs or catch a lift. It's also a great way to met new ski buddies - www.snowpool.org.nz
Commercial Operators
There are a number of options available if you don't have your own transport or can't get a ride on Snowpool.
Specialised Ski Transport
Cut out the hassles and organise an expert to drive you right to our car park. These operators all have dedicated 4 x 4 vehicles and highly-experienced drivers.
Alpine Expeditions - from Christchurch to Broken River by arrangement.
Black Diamond Safaris - from Christchurch, Methven or anywhere in between to Broken River.
Powder Hunter Snow Shuttles - from Christchurch airport or Christchurch accommodation to Broken River.
Smylies Tours - from Christchurch airport or Christchurch accommodation to Broken River.
Bus
There is a daily bus service from Christchurch to the West Coast that can drop you at the entrance to Broken River Road. However, you'll need to find your own way up our 6 km access road. If you're keen for this adventure then make sure you're at the entrance to our access road at the beginning of the day to hitch a ride. Catching a lift by car from Christchurch via Snowpool is a more social option that guarantees you will get to the car park.